Founded in 1903, Clement Talbot Ltd primarily imported the French Clement cars to Britain. Before the 1914 war, Talbots were built and sold under their own name starting with the 1905 Talbot 16hp which was the first all-British model. A highlight for the marque came when Percy Lambert drove a 25hp Talbot 100 miles within an hour at the 1913 Brooklands race track in Surrey.
By 1920 Talbot merged with both Darracq and Sunbeam to become STD Motors. The first post war model was the 1922 970cc 8/18hp. This, or indeed any other Talbot did not sell well until the first Georges Roesch six cylinder car was released in 1927. From that point forward all Roesch cars sold well and the era ended with the 1936 Talbot 110 Speed Tourer.
In 1936 the Sunbeam-Talbot-Darracq alliance ended. During this collapse Antony Lago took over the Talbot factory in Suresnes, in Paris. He introduced a range of cars including two entrants for the 1937 Le Mans 24 Hour. In the years leading up to the war, Lago made the move to single seater racing. By 1939 a purpose-built GP car was completed.
Shortly after WWII Talbot Lago was firmly back in business. Unlike many of the competitors, the French manufacturer's range was distinctly different from the cars offered before the war. There were certain similarities between the T150 offered up to 1939 and the new T26, which was available in both

road

and racing car trim. The moniker T26 was actually first used in the late 1930s for the 4.5 litre racing cars. The type name refers to the fiscal horsepower of a 26 cv engine. Before the six cylinder racing engine was offered to the public it was extensively developed from 1942 onwards, which enabled Talbot Lago to offer its new range so quickly after the end of hostilities.
After the war, Carlo Marchetti helped Lago develop his sports prototypes and GP cars. Eventually an overall win at Le Mans would reward the effort but production after 1950 did not reach any large numbers.
Representing the upper end of T26 development, the Grand Sport chassis was sold to exploit the marques formidable reputation on the track. Highlighting the car were a triple carburettors and an aluminium head as found on the GP car.
Almost all the T26 Grand Sports received custom coachwork. This car, chassis no.114 featured a body made by carrossier Lois Dubos of Paris on a custom shortened chassis. A similar sister car appeared at the 1948 Paris Auto Salon in white.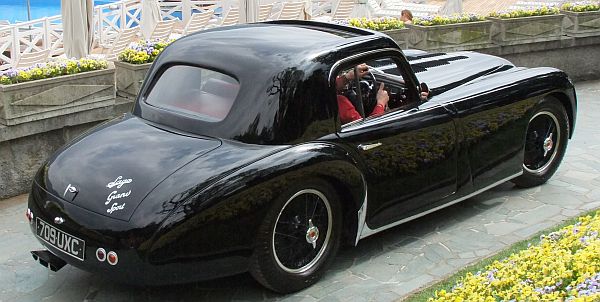 Postwar government taxation policies savagely discouraged the sale of passenger cars with engine sizes above two litres in France. Despite its high quality cars, Talbot-Lago struggled for postwar survival along with other prewar marques such as
Hotchkiss
and
Delahaye
, and production ceased when Simca took over in 1959.